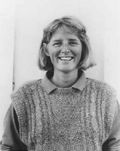 QUOTES FROM REVIEWS OF ANTARCTIC NAVIGATION
Published by Alfred A. Knopf, January 1995
Arthur won our heart with her last book, the warm and magical memoir Looking For The Klondike Stone, but we are lost in amazement over her new novel, a tale of yearning and discovery as vast and crystalline as the continent it portrays. Arthur submerged herself in researching Robert Scott's 1910 expedition to the South Pole and spent wide-eyed time in Antarctica absorbing the cut-glass beauty of the highest, coldest, and driest place on earth. Arthur translates these intense experiences into a spiritually rich and unfailingly dramatic story about a woman of action named Morgan Lamont...Arthur treats us to a remarkable blend of romance, high adventure, science and philosophy, a heady mix not unlike Moby Dick in its depth, passion, and revelation, but with a distinctly end-of-the-millenium orientation. And Arthur's voice is all her own -- resplendent, keen and full of wonder.
Donna Seaman, Booklist, November 25, 1994, (boxed and starred)
In a triumph of the novelists's art, Arthur brings a wide-ranging intelligence and curiosity, a compelling skill in character portrayal and a moral gravity to this 800-page story of human quest. In chronicling the growing obsession of her heroine, Morgan Lamont, to recreate the doomed 1910 Antarctic expedition of Robert Falcon Scott, Arthur painstakingly develops Morgan's complex character, credibly establishing her spiritual kinship with the failed explorer and her determination to understand the true meaning of his journey.
Publisher's Weekly, November 21, 1994, (boxed and starred)
Elizabeth Arthur's novel is so convincing that for several chapters I was deluded into thinking that she was telling her own story and that she had actually been to the Pole...This is a very good novel indeed, if it is a novel. One almost feels that the author wrote it under the influence of Scott, that she so breathed in the necessary geographical, scientific emotional and spiritual aspects of that dreadful journey to transcend fiction, and spin reality.
Beryl Bainbridge, Newsday, January 8, 1995
A keenly imagined novel of a woman-led expedition to Antarctica that sets out to vindicate both the human spirit and Robert Scott, the famous polar failure..[Her]Prose is both lyrical and perceptive about nature, heroism, and the splendid power of books to catch the imagination.
Kirkus Reviews
[A] vast and wonderful novel...Antarctic Navigation is modeled after the great Victorian novels, rich in subplots and recurring themes, as deep and resonant as it is long...The next best thing to being in such a ferocious icescape, this is a beautifully written book that invites us into the world's 'highest, driest,coldest place'-- and one very unusual woman's mind.
Andrea Barrett, author of Ship Fever, in Outside, January 1995
Antarctic Navigation is a magnificent and enthralling novel, a real 'whale chaser', and Melville, I think, would be proud of the comparison. Morgan Lamont is surely the strongest, most intelligent, and most passionate protagonist I've encountered in quite a while, and her story does what literature is suppose to do: sweep us away, hold us spellbound, and finally transform us.
Ron Hansen, author of Mariette in Ecstasy
Fully imagined, rich with character and incident, Antarctic Navigation takes the reader on an unforgettable voyage of the mind and heart and body, Each sentence has been carefully tended, each scene carefully wrought, and the result is a work of of luminous and lasting beauty.
Tim O'Brien, author of Going After Cacciatio
Antarctic Navigation is a big, glorious, riveting adventure, with one of the most winning heroines in contemporary fiction.
Hilma Wolitzer
This huge novel is filed with riches: the portrayal of Morgan's early years in Colorado, for instance, is so vividly imagined that it captures the true otherworldliness of childhood. The complex background of Morgan's Antarctic trek... is laid out with a sense of scope and ambition rarely seen in contemporary writing., These qualities alone make this novel compelling reading, but it is the way the enormous whole is informed with the knowledge of a life -- Arthur's unabashed attempt to shape all that she knows into a book others can share -- that makes her achievement truly astonishing. I was, quite literally, thrilled to be reading it.
James Mustich, A Common Reader, January 1995
Thoroughly engrossing...With [Arthur's] seamless prose and her unerring sense of time and place, she brings alive her settings as few writers today can.
The Cleveland Plain Dealer
At its most basic level, Antarctic Navigation is a gripping adventure story. But it's far more than this. It's a love story. It's a physical and spiritual quest. It's a meditation on the future of our planet both in environmental and moral terms. It's an essay on imperialism and the way we are still, one way or another, deeply involved with exploitation. It's the story of one individual's groping toward wisdom...Arthur writes so beautifully, with such leisurely clarity, that the book is always a joy.
The Boston Book Review
All the ingredients a reader could hope for: parallel historical and contemporary dramas, a contest between personal aspirations and the powers of nature, the testing of human relationships under extreme conditions, and a magnificent setting.
The Boston Globe
As Elizabeth Arthur convinces us in her meticulously researched, powerfully drawn, and deeply felt novel, there are many beginnings and endings sealed within the polar ice... Antarctic Navigation is more than an adventure story recast in contemporary feminist terms. It is also a bumpy coming-of-age tale: an exploration of the unmapped terrain of the hear; a flirtation with the complexities of ecopolitics, pacifism, and New Age mysticism; a dip into history, memoir and science, and Arthur's passionate love letter to the natural world...We read Arthur's book the same way she says we should make our way across the earth, treading lightly, and leaving behind little scuff marks of pleasure.
Margaria Fichtner, Miami Herald, January 15, 1995
Morgan is a true adventurer, one who feels that our imperiled environment will soon be at the point of no return, with its rescue dependent on lessons we might learn from the pristine vastness of the earth's last unspoiled wilderness. To this end, her desire is to someday re-create Scott's Terra Nova expedition...Yet within a novel whose heft has the weight of an epic, and whose landscape is, to most of us, as remote as the surface of the moon, Arthur creates a diverse cast of characters whose courage and conviction seem up to the task.
Paul Pintarich, The Sunday Oregonian, April 2, 1995
Beautifully written...Arthur writes with such clarity and affection for her characters that they engage the reader...Every page is filled with wonderful character descriptions, visual images, and just plain good writing.
Richmond Times-Dispatch
The bleak and beautiful landscape of Antarctica provides the backdrop for this epic novel of adventure and self-discovery...In its whiteness and purity, its unforgiving nature, its status as the last unconquered place, Arthur finds metaphors to discuss colonialism, feminism, environmental planning, war, history, and science... Antarctic Navigation is a stunning novel that works on many levels...[and] tackles some of the most complex issues of our time.
Jean Blish Siers, Chicago Tribune
Reading Elizabeth Arthur's new book is like talking to a friend you haven't seen in years... A classic heroic quest...the book is extraordinarily satisfying. Morgan's interior quest and her reflections on the meaning of Antarctica are absolutely fresh and engrossing. Reading the book becomes a kind of quest itself, after which the world will never again look the same.
Roz Spafford, San Francisco Chronicle, January 15, 1995
Readers will come away with a sense of having been given a glittering gift: an appreciation and respect for an awesome, awful place, the likes of which most of us will never see. Except, perhaps, in a dream.
The Virginian Pilot and the Ledger-Star
Remarkable...[An] absorbing telling of an extraordinary woman exploring the extraordinary land.
Fort Worth Star-Telegram
If indeed Antarctica proves to be our milleniums's last great tabula rasa, our austral Eden, then Arthur may prove to be its Boswell... Morgan is a rare and marvelous character in contemporary literature, a woman driven by a wildly heroic obsession... Barring a trip to the continent itself, there may be no better way to experience the perilous and endangered majesty of Antarctica, and those who are driven not to conquer, but to understand and preserve it.
Elizabeth Hand, Detroit Metro Times Literary Quarterly, Vol 2 No. 1, Spring 1995

UP TO TOP
A major American work - a work of astonishing power, range, and vision.

The dazzling landscape central to this multifaceted tale of adventure and aspiration is the white Antarctic vastness known as the Ice. The story is told of an expedition to the South Pole, led by a young, ardent American woman, Morgan Lamont - an expedition inspired and haunted by the tragic journey, eighty years before, of the British explorer Robert Falcon Scott.

For Morgan, Scott's life, his dream, his death, and the very concept of Antarctic navigation are obsessive emblems of the search for integrity in a morally precarious age. Freed by her mother's quixotic and frightening sacrifice and the generosity of her hitherto estranged grandfather, she sets out to fulfill her dream - to "vindicate" Scott by recreating his historic polar expedition.

Morgan's journey - and everything in her life, and in her America, that has led to it - is made vivid and real. This is how Morgan the daughter, the lover, the independent thinker, the maverick, becomes the Morgan who brings together a brilliant, unlikely group of explorers and rallies them through physical and emotional dangers, crises and storms, across the ice to the Pole.

As she and her companions head back to their base, built near the hut from which Scott's expedition set out; as they struggle to cross once more, before the austral winter begins, the magnificent and terrible terrain that is the last great wilderness on earth; as Morgan's own physical, intellectual and emotional certainties are severely tested, we see in her a hero for our times. Her epic journey of the heart and mind and body becomes emblematic of the dangerous passage all of us face as the millenium approaches.

At once extravagant and austere, pulsing with color and detail against the start Antarctic ice, this is a novel as singular as the continent it reveals. It is a work whose authenticity, storytelling force and metaphorical richness - immersing us in the world of Antarctic exploration - illumine both the meaning of the century now ending and the power of the human spirit to navigate the new and the unknown.

UP TO TOP