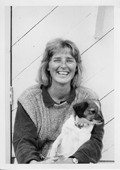 QUOTES FROM REVIEWS OF BINDING SPELL
Published by Doubleday, September 1988
Binding Spell is a wonderfully benign and satisfying novel. It's leisurely, amused tone belies its tight construction, which is patterned on steps in the casting of a spell. If the central premise of witchcraft is the connectedness of all energy, that is also the organizing principle of this novel...Binding Spell is as appreciative and good-natured in its fashion as one of Shakespeare's merrier comedies -- the ones in which the irrational acquire some common sense and the rationalists learn to have a jolly time.
Frances Taliaferro, The Washington Post Book World, August 28, 1988
Binding Spell is a very funny and exceedingly well-crafted comic novel... Elizabeth Arthur asks what life would be like if it were true that our wishing for happiness -- our working for it -- negated misery and brought contentment into existence. Life would be, as Arthur demonstrates, wonderful, unpredictable, and above all, funny. But in Binding Spell it is not enough to wish for change. First one must understand the world as it truly is, a living organism, on which everything is linked, so that "everything is all one thing."
Susan Fromberg Schaeffer, Chicago Sun-Times, August 28, 1988
The title of this exuberant new novel refers to a technique in witchcraft that prevents someone who threatens the safety of others from carrying out the act...In truth, the book's most enduring spell is the one the author herself has cast, wrapping sage reflections on human foibles and capabilities, lost dreams, and new possibilities, in a mantle of buoyancy and wit.
Michael Bandler, Chicago Tribune August 21, 1988
A Midwestern Midsummer Night's Dream... Arthur's talent shows through as steadily as the full moon that shows up after the havoc of the tornado.
Kirkus, July 1, 1988
Like an offbeat, modern fairy tale..(a) funny and moving story. After a wonderful climax during which a tornado wrecks havoc in Felicity, the characters variously achieve passion, happiness and balance. A tale full of wit and affection, Arthur's latest offering (after Bad Guys and Beyond the Mountain) also boasts the best collection of dogs in recent literature.
Publisher's Weekly, July 15, 1988
A warm, disarming novel...With great good humor and compassion for people's foibles, Arthur delicately constructs a sunny, near-magical tale of love and reconciliation.
Booklist, September 1, 1988
A story that affectionately profiles American craziness and optimistically affirms our essential mental and moral health....What's hard to capture in brief quotes is the essential sweetness of the book, its deep faith in human nature and our ability to live in harmony with one another...Underlying this optimism is Arthur's passionate belief in the interdependence of human beings with the earth itself and all living creatures on it. Yet these ethical concerns never make the novel didactic or boring. The primary focus is always on the characters, whose marvelous, quirky individuality is matched by Arthur's sprightly prose and warm humor. Binding Spell is a novel of both charm and substance.
Wendy Smith, Newsday, September 4, 1988
A fantasy with teeth...Arthur's magical tale brings up thought-provoking questions about our society's norms, institutions, and point of view...The book is an entertaining success on many levels, and there is enjoyment to be had on nearly every page.
The West Coast Review of Books, October, 1988
This is one of the best novels I've seen in a while. Arthur doesn't try to deliver a cosmic moral, nor does she use her people to show how hip and cool she is. Instead, she lets them tell their own stories. She has created not one, but many, fully realized characters -- people we might know. Indeed, by the end of Binding Spell, we do -- and we're glad we did.
Pat Washburn, Middlesex News, Jan 22, 1989
Elizabeth Arthur's third novel is a sweet, loony tale set in a small Indiana town fortuitously named Felicity... For readers who bemoan the dropped threads and empty gestures of contemporary fiction, the novel offers refreshing and original conclusions... Arthur's greatest strength lies in her seemingly effortless ability for unraveling plot, for charting her own planetarium, linking stars together in constellations you never dreamed of.
Sally Savic, Albuquerque Journal, December 25, 1988
Binding Spell is a genuinely funny, very quirky novel of human relationships. The novel is peopled with memorable characters who, while they might be a little strange, are very likable, and their strangeness adds to their quaint charm.
Jill M. Smith, Rave Reviews, 1988
Elizabeth Arthur has crafted a binding spell of her own...Binding Spell is a wacky mix of a novel... a charming novel, with a slightly off-center sense of humor and reality. Told in a language that tries not to intrude on the story too often, Binding Spell is a delicious, delightful novel, rich in quirky nuances and fresh touches of the usually mundane.
Robert E. James, Santa Ana Orange County Register, October 2, 1988
What makes this novel special is its engaging cast of characters, several of whom happen to be dogs... Elizabeth Arthur has written a fine comic novel -- a warm and wacky slice of Americana.
Colleen Kelly Warren, St.Louis Post-Dispatch, September 11, 1988
Arthur's writing is folksy and humorous, yet wickedly observant.
Jeanine Klein, Seattle Post-Intelligencer, October 27, 1988
Arthur's deft orchestration of a complicated plot and her fluent, gracefully cadenced prose help the reader through what might, in less sure hands, have been a confusing maze. She's witty, affectionate toward and forgiving of her antic cast of characters, and always firmly in control of the action.
Emily Leider, San Francisco Chronicle, August 8, 1988

UP TO TOP
The New Yorker called Elizabeth Arthur's first novel, Beyond the Mountain, "stunning - stark and subtle," and described her second, Bad Guys, as "inspired tragicomedy." Now in her most audacious and accomplished novel yet, Arthur gives the reader a special gift: a comedy set in America's heartland that evokes with pathos and hilarity the condition in which we as a nation find ourselves on the edge of the century's final decade.
Howell Bourne believes an international banking conspiracy is causing American farms to fail, and when two professors from Russia visit a nearby college,. he thinks God has encouraged him to kidnap them. His sister Bailey, an aspiring witch, and Maggie Esterhaczy, a beautiful psychologist obsessed with the threat of nuclear war, are two of the characters who get swept up in the ensuing events, which change the lives of all concerned: Ryland Guthrie, the hypochondriacal manager of an elegant furniture store - "the finest store in Felicity, Indiana"; his brother Peale, whose lifelong run of good luck has recently ended when he won election as the sheriff of Rock County; the ebullient Ada Esterhaczy, an eighty-six- year-old Hungarian herbalist who is determined to get her granddaughter Maggie pregnant; and a large cast of canines with whom the humans' lives are intertwined. During the sweep of several days in spring, these characters and the two Russians - as unlikely a pair as Laurel and Hardy - discover the beauty of the threads that bind them and their still-lovely planet together.
Wildly funny in her details and deeply loving toward her characters and their foibles, Elizabeth Arthur here again tackles the possibilities of change and the choices we all have to make. Effervescent as mineral water, subtle in its design as a hand-stitched quilt, Binding Spell is a consummate American tale, whose characters wrest fulfillment through a new vision of things that have been there all along - who, in a world fraught with real and imagined danger, find a way to live happily ever after.
Book excerpt will be available when e-version of Binding Spell is online at Hollow Tree Press.

UP TO TOP